Vacancies
We're looking for a Level 3 Teaching Assistant to join

#TeamYA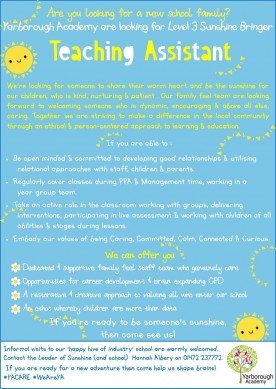 If you're looking for a school family that has love, CARE and relationships at its heart then this might be the job for you!
If you're interested then please email our Headteacher, Hannah Albery: head@yarboroughacademy.co.uk
To download an application form then please click
here
_____________________________________________________

We are always interested in meeting people who would like to make our Academy even better.
Yarborough Academy is a great place to work, to learn and to develop. Our staff development programme is extensive and we have a very supportive (and challenging) atmosphere around the Academy.

Any vacancies are listed on the 'Jobs go public' website here:
www.jobsgopublic.com and also in the local press.
We will also tweet out the links via our Twitter account @Yarborough_ya
Please look at our curriculum section to get a flavour of our unique Academy – and come in and see it for yourself!