FOCUS visit to Lincoln University
As part of our partnership with FOCUS schools, six children from Years five and six joined other children and staff on a day at Lincoln University.
They had a tour, met lecturers and current students and had their eyes opened to the possibilities of Higher Education. What an aspirational experience!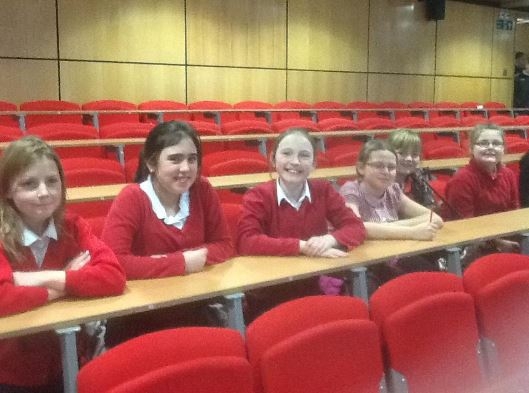 ---
Staff / Parent Feedback
Within a very short time it was evident that the children were inspired and aspirations had been raised. I had taken it for granted that they knew what a university was but when we had a briefing this morning I realised that they had limited knowledge.
Jayne Day, Coomb Briggs Primary School.
Children were really enthused by the tour. It was a great opportunity for children to learn about what university life is like. Our children are already talking about what they are going to study at university. Our children returned to school inspired.
Sarah Powles, Canon Peter Hall CE Primary School.
Really fascinating to see all the departments and how the site has been developed. I have enjoyed the visit because we had a very interesting tour by Paige. She told us lots of things about all the buildings around the site. Thank you.
Karen Waterhouse, Stallingborough CE Primary School.
Tour good, guide enthusiastic and personable.
Liz Snell, Strand Primary Academy.
The children seemed to enjoy their time here today asking lots of questions. I believe this will help with aspirations.
Hayley Cowl, Grange Primary School.
The children have enjoyed the day so far and have asked me lots of questions about university and life. It's been really interesting for me to have time to talk to them about experiences and expectations. Much more work needs to be done with them. I had thought it was going to be more about journalism but it's still been interesting.
Catherine Davenport, Willows Academy.
Children found tour interesting, but some areas (eg student accommodation) were inappropriate for primary children. Tour guides very informative.
Very interesting. Children enjoyed it thoroughly. Lots of information given by tour guides.
Very interesting and informative. I enjoyed the tour. I would be happy if my boys came here. (Parent)
The children asked lots of relevant questions and soaked up the atmosphere. WOW! If only I had this opportunity when I was younger. Mrs K Paul.
The children were all fired up about going to university. A real aspirational building day.
A fantastic opportunity for children so young to see the possibilities of their futures. The children have made so many comments about working hard, subjects and careers that will involve going to university.
A valuable experience for the children for the children. They thoroughly enjoyed the tour and are already talking about a future at university.
---
Children's' Feedback
This is a good university. With this visit you have made me feel like I should come here. I don't know if that was the idea but you did it well.
I enjoyed my visit at the university. It made me think of coming here in a few years.
I would like to study dancing.
Didn't realise how large the campus was.
I liked the science building because it was very exciting and mysterious. Overall I really enjoyed it.
I thought the university is really interesting and fun.
I found the university amazing. Our tour guide was very nice.
I enjoyed the sports hall. I want to come to this university.
Huge and confusing like a complicated labyrinth. After having the tour I want to come to the University of Lincoln! This place is amazing and there is a surprise round every corner.
I enjoyed looking at the PE hall.
A massive, confusing building with lots of amazing departments. If I were to come to university I would go to the sports department.
I enjoyed the tour and I know I would like to come to university. I enjoyed learning about the Tower Bridge.
I think that it is a fantastic school. In my opinion I like the sports centre and the science lab. I would love to come here every day, but I am still in primary school. The tour was inspiring.
I loved looking round the campus and seeing all the different sports. Also, the staff are very helpful. I would love to come to university now.
I liked the LPAC centre because you can do different things there.
I really enjoyed looking around the campus and learning about what it's like at university from actual students. From hearing what everyone at uni has said, it definitely made me want to come.
I really enjoyed going round Lincoln University. It was really interesting. I think I would like to come here.
Thanks a lot! I've absolutely loved the day. Everyone is so welcoming and kind. I think I know what university I'm going to now!
I think that this trip has inspired me to come to university. It is really interesting. I enjoyed it.
It's been an amazing experience coming to the University of Lincoln. It's made me think more about what I want to do when I'm older.
I think it's a great opportunity for young people to follow their dreams.
I thought the trip was interesting and fun to have a tour round.
I like the fact that if you have an interest you can form a society to meet people with the same interest.
It is a good opportunity for young children to see what it is like at university.
I liked seeing the PE gym and I would love to come to university.
I enjoyed looking round the sports building.
I really liked the way the university looks. I would consider coming here again in the future
I didn't expect there to be 3 floors in the library or for it to have 250,000 (quarter of a million) books!
I liked looking at all the technology.
I loved the sports centre because I love gymnastics.
I really liked this experience as I learned a lot of facts and information about this university. Also, I learned the capacity and about all of the many different buildings.
I really like the trip because I learnt a lot of facts and I saw different buildings.
I will come here because I think it will be fun.
I really liked the trip so far. I have learnt a lot like the English Olympic team come here to practice. I want to come here when I am older.
I liked the tour of the Lpac and the people who dressed up in a swan and costume.
I really enjoyed my visit to Lincoln University. One fact I've learnt is that dogs can understand us.
I loved the tour round university. Especially the sports centre.
I have learnt loads of things and have already decided what I am going to do.
The visit was amazing. This has inspired me to go to uni and to study politics.
I really liked the university tour. I think it is an amazing place for education. I liked the look of the accommodation. I will think about coming here. It was surprising how big the campus was.
My favourite part was the sports centre. I enjoyed it.
I've enjoyed looking round the university. It looks brilliant and you might see me again. Thank you.
I think that this university will inspire people to come here since it is so nice and big.
I feel that university is a great opportunity to learn. I can't wait to go to university.
Good tour.
I liked the designs of the buildings.
I like the sport centre. I don't like the distance to walk but I would come here.
I like the sports centre. Also, there is nothing wrong with this place. I really have enjoyed it today and I would like to come back!!
I have really enjoyed the tour at Lincoln University. I especially enjoyed the sports centre.
I enjoyed it when we found out about the building where religious people come pray. Also, why I liked it, it was because I am a Jehovah Witness.
I enjoyed the tour of the university and being told information about it.
I thought the day was very interesting and I had a lot of fun. I really liked the engineering room.
I would like to come to university. I found the squash court really interesting. Also, I loved the tour.
I enjoyed the dog psychology and would like to do cat psychology.
It's been a really fun day. I enjoyed the tour. I would probably come here.
Today we've been on a tour and learnt about the University of Lincoln. It was very enjoyable and fun I want to come here.
I would like to come to university. I found learning about the university interesting.
I liked that it had lots of subjects here and I would come here.
I liked the shape of all the buildings. I didn't like the sports bridge. I would definitely come to university here.
I liked how many sports you can learn and play. The dance building looked very modern and complicated but cool.
This university was really interesting and huge. I found it fun finding out about everything. It is huge. I think it is amazing here and I would definitely love to come here one day in the future.
I'm impressed by the site and the buildings. The bit where we were taken round the sports hall. The Swan.
---
Students' Feedback (Paige, Alex, Nicole, Hazel)
My experience of today was really rewarding. I was so nervous before doing the tour, but the children were all so well behaved and interested in what I had to say, it was such a positive feeling. Some of the children also had lots of questions and seemed really keen on coming to university themselves which was really rewarding to see. I think being able to visualise uni and get a feel for the differences from school is really exciting for them and will probably be a big motivator about what jobs they may be interested in in the future and what sort of things interest them at school at the minute. I definitely would have loved an opportunity like this when I was at school. University was just a word to me, which I didn't fully understand. I hope you have all enjoyed the experience!
Really enjoyed showing younger kids about the university. Teaching children as young as possible about higher education was really rewarding as they were really enthusiastic and asked so many questions. I am really proud of my uni so sharing that experience was great. Once I had finished the tour I asked who would be interested in coming to university and all of the kids put their hands up. That was amazing to see.
Before the tour I was pretty nervous but as soon as I started talking I started to enjoy myself. It was fun to talk about the university and see how interested the children were. I could tell they started thinking about their future. Most of them had no idea about how students live. I think it gave them a good basic insight into student life. I really enjoyed today.
<< Back to latest news