Teaching and Learning
All projects are introduced at the end of the previous term with 'Hook days'.
These are designed to inspire and immerse the children into the new project with practical and real experiences that engages them to want to learn more. The final product of the project is introduced at this stage and all the learning during the term works towards this.
Projects are taught in a cross curricular way. Teaching and learning is project led and not subject led. Because of this timetables are no longer relevant. Learning continues, develops and changes along with the children's needs and interests rather than being constrained by time.
Learning is practical, engaging, collaborative, creative and purposeful. We plan for independent challenge by setting problems to solve rather than giving information.
We explore the curriculum – not deliver it.
We use the principles of REAL learning:
R = Rigorous

Children engage with the subject content by using reasoning, analysis, critical thinking and problem solving.
Teachers refine projects through interests and assessments.

E = Engaging

Children understand the purpose of their learning.
Teachers create learning experiences with projects that are purposeful and relevant to the real world.

A = Authentic

Children share their work with a public audience.
Teachers develop projects that allow students to tackle real life issues.

L = Learning

Children are driven to learn because they see the purpose through the lens of the essential question.
Teachers are learning from students and are engaged in an adult learning community.
---
Our curriculum is differentiated through the principles of Basic, Advancing and Deep. This is planned around provision of understanding, not ability. Please see the link below which explains BAD in detail.
We are being hooked into our new project by discovering who from Alice in Wonderland left the objects that we found in the magic box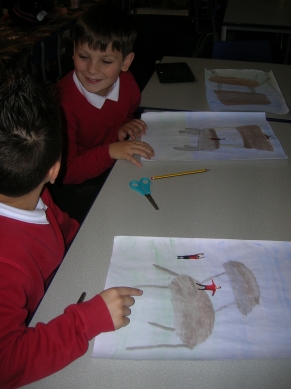 We enjoy learning